How to cook your lively fresh prawns:
First, leave the prawns for a couple of hours before cooking. This will stop the prawns from throwing their claws when being cooked. Add prawns to a large pan of boiling water. Let pan return to the boil. Reduce heat and simmer for a couple of minutes. Drain water from pan. Leaving prawns in the pan, run cold water into the pan for a good ten minutes until prawns feel cold to the touch. Doing this will stop the prawns being over cooked and rubbery.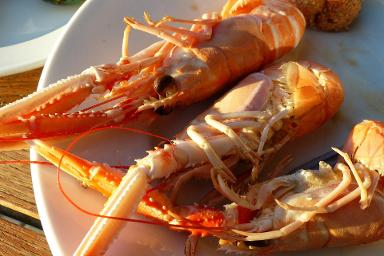 Jo & Jan's Prawn & Asparagus Tagliolini with Pesto:
Ingredients:
P.S: This is best made with fresh pesto. We used to use basil pesto but recently have done this with home made wild garlic pesto. In the past we used frozen raw prawns.
6 medium prawns per person (small prawns or prawn tails can be used - about 150gm meat)
6 medium spears of asparagus per person (about 150gms). Courgette batons can be substituted.
62.5 gms tagliolini or linguini per person.
2 tbsp pesto per person
1/2 clove garlic per person,
chopped Chilli flakes (optional)
Olive oil for cooking
Recipe:
Cook prawns (see above). Remove heads and claws. Peel body. Trim woody end of asparagus stalk and cut into 2-3cm lengths.
Bring a large (3-4 litres) pan of water to the boil, add salt and a dash of light olive oil. Cook to your preferred consistency, or according to the packet.
Two minutes before the pasta is done, throw in the asparagus, bring back to boil and cook for 2 minutes. Meanwhile, in a large non-stick wok or frying pan, heat olive oil and lightly fry the chopped garlic.

Drain the pasta and dress with olive oil. Optionally, add a small pinch of chilli flakes to the wok/frying pan, stir.
Add the prawns to the wok/frying pan and stir for a few seconds. Add the pasta. Add pesto, stir to thoroughly coat pasta and serve.
Jans Seafood Paella:
Ingredients:
400 gm paella rice (or use ordinary long grain rice) 400gm firm fish (monkfish, halibut or catfish is best, cod loin can be used), cut into bite-sized pieces
1 kg local prawns 1/2 kg local mussels, cleaned.
1 medium-large onion, chopped
1 very large tomato, peeled & chopped (or 1/2 tin of tomatoes)
1 jar pimento peppers or 1 large fresh red pepper (jar is easier), cut into strips
1 tin artichoke hearts, drained, washed under tap, and quartered
300gm frozen peas, defrosted (just get out when you start)
600-700ml prawn/fish stock (about 2:1 by volume to rice)
1 tsp paprika pinch of saffron strands, soaked in a little hot water 1 lemon Olive oil
Paella Pan, or large deep frying pan with lid. Very big pan for boiling prawns - 10 litres is good.
Recipe:
Cook prawns: Heat a very large pan of water to a rolling boil. Add prawns, bring back to a rolling boil. If using medium or small prawns take out immediately and plunge into a bowl of cold water. If using large prawns, boil 30 seconds first. When cool, remove heads and claws. Keep heads for making stock or bisque. Enjoy contents of claws as a snack.
Scrub mussels, remove any fibres trailing from shell. Reject any that are not closed.
Heat oil in pan, add onion, cook 5 mins without browning. If using fresh peppers, add and cook for two minutes. Add fish and fry gently to let surface seal. Add rice and tomato to pan and stir gently to coat in oil. Add paprika, saffron and stock. Add artichokes. Stir gently. Check and add salt if needed. Cook on high heat for 5 minutes or until everything is bubbling well. Reduce heat. DO NOT stir any more. Cover. After another 10 minutes, uncover, add peas, pimentos, mussels and prawns. Cover again. Leave 10 minutes.
Check that rice is cooked, and that mussels have opened, it may need another minute or two. When rice is done, discard any mussels that have not opened. Serve with lemon wedges.
Alex 's Marinated Prawns (for frying or BBQ):
Marinade ingredients:
50g butter
50ml Extra Virgin Olive Oil
2x Red Chillis finely cut, or a red chilli paste
2-3 Garlic Cloves crushed
Black pepper
Presh prawns
Recipe: Heat marinade ingredients in a bowl, don't fry (1min in microwave, or medium heat for 3mins in a saucepan to bring the flavours together).
Put live prawns in a freezer for half an hour to send them into a coma, then pop directly into the boiling pot or to the knife. Slice prawns in half, lengthways, starting at the crosspoint behind the head towards the tail, then continue back through the head. Run under cold tap, and using a finger or a small paintbrush to remove head entrails. Remove any of the dark line through the body. Pat or drip excess water. Coat prawns in the marinade, for an hour in the fridge, then either bbq or fry in a saucepan for 4-5mins.
Duncan McAndrews Prawn Linguine:
Ingredients:
Linguine pasta,
prawn/squat tails,
chorizo,
single cream,
chilli flakes.
Recipe:
Prepare chorizo by dicing, fry in olive oil on a high heat, once slightly blackened remove from pan and allow oil to drain from chorizo. Leave to one side. Add Linguine to slightly salted water 10-12mins. In a clean pan, heat olive oil with chilli flakes if desired, add prawn tails cook on high heat for 2 mins, then add chorizo pieces for one more minute, lower heat and add single cream about 150ml, let cream heat up slightly to thicken. Drain Linguine, remove prawns from heat and mix with pasta. Serve with Parmesan on top
Prawn cocktail with a "proper Maree Rose sauce":
Mayonnaise – 4 Tbsp,
Tomato puree – ½ Tbsp
Paprika – ½ Tsp
Lemon – to taste
Place the mayonnaise in a bowl and stir in the tomato puree and paprika. Add lemon juice to taste and season with salt and freshly ground black pepper. Mix the sauce with cooked peeled prawns.